AAUW's Tech Trek is a STEM (Science, Technology, Engineering, Math) camp designed to develop interest, excitement, and self-confidence in rising eighth grade girls. Through hands-on problem solving and interactions with women STEM professionals, Tech Trek helps girls see their futures while having nonstop fun! This one-week summer camp is backed by AAUW's research and is designed to make STEM fields exciting and accessible to girls in middle school — the time when girls' participation in these fields statistically drops. For many girls, the weeklong camp sparks their curiosity and places them on a path toward careers in STEM fields.
Without a branch Tech Trek Coordinator in 2019-20, we were unable to sponsor local girls to attend Tech Trek, so we switched gears and found other ways to participate. We funded 12 grants to our own former Tech Trekkers to attend Girls In Ocean Science conferences at the Ocean Institute in Dana Point. The girls spent a full day with women ocean scientists, learning about their careers, and participating in workshops and data collection on land at sea!. In addition, we are underwriting the robotics workshop at the 2020 UCSD Tech Trek camp—supplying materials for all 128 campers to design and build their own robots! They'll take them home to serve as a reminder of what amazing things they are capable of! We are also helping to fund a financial literacy workshop at the camp!
Our branch now has over 130 Tech Trek alumnae! They can continue their exploration of STEM careers, stay in touch with other Tech Trekkers from Laguna Beach and neighboring branches, and strengthen their ties to AAUW through the Tech Trek Alumnae Group of South Orange County (TTAG SOC).
Enjoy the pictures below from the February 2020 visit to the Ocean Institute in Dana Point.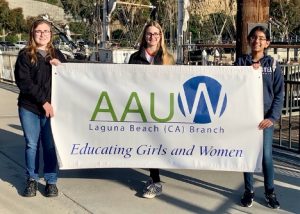 At  the Girls in Ocean Science Conference for Middle Schoolers, at  the Ocean Institute in Dana  Point. February 2020.
j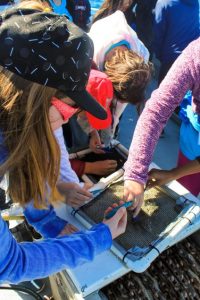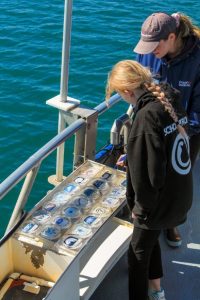 Photo Credit:  Cindy Belkowiche at Ocean Institute