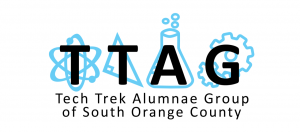 The Tech Trek Alumnae Group of South Orange County (TTAG SOC) extends and expands on the Tech Trek experience of past Tech Trekkers sponsored by these member branches:
AAUW Laguna Beach
AAUW Mission VIejo-Saddleback Valley
AAUW San Clemente-Capistrano Bay
ACTIVITIES
Our kick-off meeting was held January 25, 2020.  It featured a panel of three women STEM professionals, followed by an organizational meeting that included brainstorming about future activities.
Upcoming activities: POSTPONED INDEFINITELY
We have postponed all events and meetings until the COVID-19 situation has stabilized. Then we will re-reschedule these tours:
   San Onofre Nuclear Generating Station (Decommissioning Process)
   Tyvak Nano-Satellite Systems, Inc. in Irvine
   Big Bend technology campus of the Laguna College of Art & Design
HOW TO APPLY TO BE A TECH TREK JUNIOR COUNSELOR
Contact Camp Directors for application forms and procedures.  There might be an interview.  Be sure to meet all deadlines.
JOIN!
Join TTAG SOC to receive information about local STEM opportunities, updates, and announcements of TTAG activities.  Send an email to ttag.soc.aauw@gmail.com
Include in your email:
Full name
Preferred email address
Phone number
Home address
Middle school you attended
Tech Trek camp you attended (campus and year)
What are you doing now?
Parent name (if you are under 18)
Parent phone number
Parent emails address