In early fall of 1999, three members of the AAUW-Laguna Beach branch – Diane Krasner, Pat Jamieson and Peggie Thomas —  approached the principal of El Morro Elementary School with a proposal for an after school tutoring program.  Then principal, Dr. Joanne Culverhouse, embraced the idea and The Learning Club was initiated.  Twenty-one years later, TLC continues to provide afterschool tutoring to students at El Morro.
The program has evolved over the years.  Initially TLC was conceived as a program in which one tutor would work with 3 students on homework from the same grade.  Twenty-seven students were in the initial class, tutored by 7 volunteer tutors.  Over the course of the next two years, it became apparent to us that the students in the program would benefit more from one-on-one tutoring which better enabled the volunteer tutor to connect and bond with their student and eliminated competitive behavior between students as they vied for their tutor's attention.
TLC now serves on average 20 students per year in grades 2 through 5.  Students are recommended for the program by their classroom teachers as needing additional support to be successful in school.  Students are matched with a tutor or tutor pair, who meet and work with the students two afternoons for 16 weeks, January through May.  Students receive help with their homework and in subject areas in which they may need remedial work.  Thirty-seven AAUW-LB branch members and community members from Laguna Beach and surrounding communities provide tutoring and mentoring help.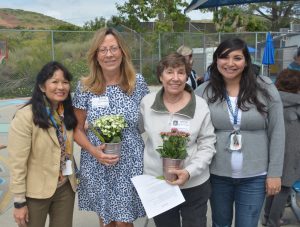 The program is supervised by two classroom teachers and administered by two AAUW-LB members, Peggie Thomas and Kathy Willman.    The volunteers find it a rewarding and satisfying experience with well over 75% returning each year, some volunteering since the program's start.  And the support from El Morro remains strong: "Words cannot express how valuable this program has become for so many of our students and their families.  It has provided such a boost for those that need the extra one to one help.  TLC has truly been a lifesaver for students and teachers alike."
Thank you for all you do for our kiddos here at El Morro in the TLC program!  You have become an integral part of their growth and success and we are so lucky to have the TLC program.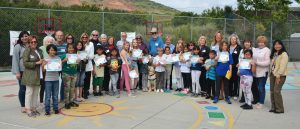 For the safety of the students, staff and volunteers, The Learning Club was temporarily suspended in March 2020 due to COVID-19. We are hoping to resume tutoring again at El Morro Elementary School in late fall 2021. If you would like to be a part of this rewarding program and make a difference in a student's life, please contact either Peggie Thomas or Kathy Willman.  No experience necessary.  You just need a desire to help a child and availability from 2-4 p.m. Tuesday and/or Thursday afternoons.