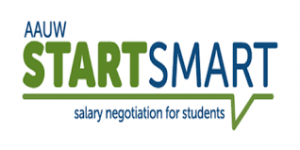 Start Smart is a two-hour  AAUW Salary Negotiation workshop designed to address the gender pay gap.  The idea is that women need to start their careers "smart" so they can negotiate for the salary they deserve from the moment they enter the workforce.
AAUW-LB offers Start Smart to students enrolled with our two college partners:  Orange Coast College and Laguna College of Art and Design.
Workshops train students how to
identify and articulate their personal value
conduct objective market research to benchmark a target salary and benefits
strategize to make a salary ask using techniques such as deflection, building your pitch, and responding persuasively
AAUW-LB presented the pilot program to OCC students in spring 2014 and has served over 300 students since that time in classes ranging from Game Design to Dental Assistant Certification.
The most recent evaluations by students served by AAUW Laguna Beach indicated that 97% of them rated the information presented as useful and relevant and 96% believed their attendance would have a strong impact on their ability to negotiate a fair salary.
Contact Lesley Danziger, AAUW Laguna Beach Start Smart Chair for further information about local workshops.
More information about Start Smart can be found at https://salary.aauw.org/attend/