AAUW-LB Board of Directors 2021-22
The newly elected AAUW-Laguna Beach executive Board members are:
President:  Sigrid Moranz
Co-Vice Presidents:  Nancy Miller and Madeleine Peterson
Programs Co-Chairs:  Audrey Locke, Jean Vivrette
Membership Chair:  Jean Brotherton
Treasurer:  Roberta Kanter
Secretary:  Alison King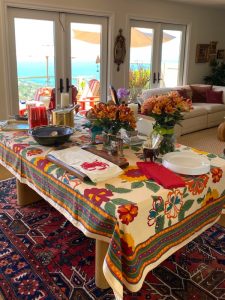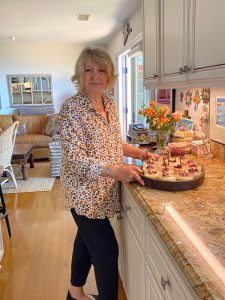 On June 13, 2021, AAUW LB incoming and outgoing board members gathered at Madeleine Peterson's home to officially install the 2021-2022 branch Board of Directors. The installation was the board's first maskless, in person gathering since the COVID-19 virus appeared more than a year ago. Everyone was happy to see one another! Outgoing co-President Farie Momayez introduced the incoming board members and presented each with a ceramic planter representing a female Greek god. After the installation, attendees told how they first got involved with AAUW. A delicious lunch of salad and quiche was served along with white and red sangria. The photos tell it all!